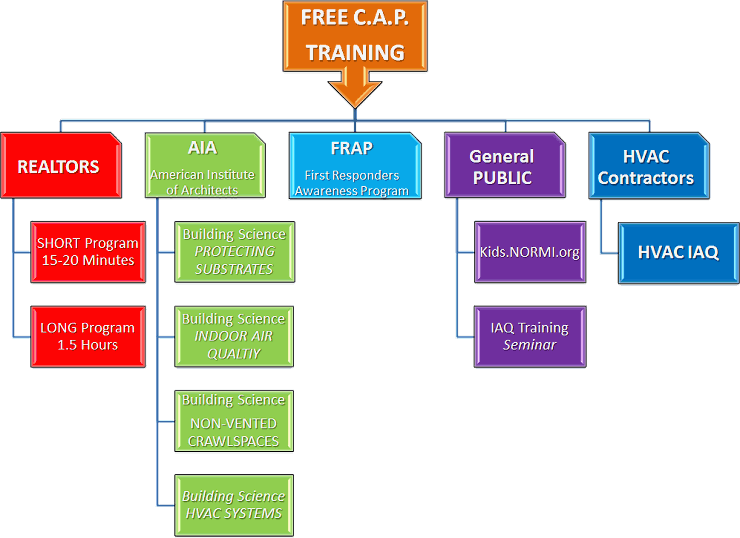 FREE CAP COURSES TRAINING
The Community Awareness Program (CAP) has been designed to help you promote your business and "give back" to the community some of the training you have received from NORMI™. Once you have taken this FREE course, you simply choose which direction you would like to go, Realtors, Architects, First Responders, or Kids, and begin down the path toward becoming the "go-to person" in your community. When combined with your membership in the NORMIPro Environmental TASC Force, you will be able to build a solid foundation from which to launch your business.
FRAP
First Responders Awareness Program Training – This NORMI trained business professional provides quality training to Emergency Service Workers (Police, Fire, Paremetics, First Aid Workers, Healthcare Professionals, etc.) on the potential hazards associated with MOLD and other indoor air quality contaminants as they could affect the health and safety of the Emergency First Responder.
AIA (IAQ Program)
AIA (IAQ Program) – The AIA IAQ Program is offered to architects who wish to receive CEUs (continuing education units) toward their AIA certification or state licensing. This facilitated program provides an overview of the problems associated with poor IAQ (indoor air quality), the health effects connected to SBS (Sick Building Syndrome) and BRI (Building Related Illnesses), the seven components of indoor air quality and the five technology solutions offered to enhance indoor air quality and provide effective IAQ Management systems. Architects are at the forefront of the design stage so their understanding of the need for improving indoor air quality by designing into their structure proper and effective IAQ Management systems will avoid future problems associated with poor indoor air quality. As the facilitator, you provide lunch in a "lunch 'n learn" setting, share with the architects the knowledge you have about IAQ and take advantage of the credibility NORMI offers.
IAQ for General Public
IAQ for General Public – This NORMI training is specifically designed for a short presentation to any group of people who are interested in learning more about indoor air quality, the problems, the seven components, and the five technologies for solving problems. As a facilitator for this training you will be asked to remain present for questions and have an opportunity to share your experience and the success you have had with solutions. You should be well trained in IAQ and completely understand the holistic approach to solving problems through the NORMI Sanitization Protocol.
REALTOR (Short Program)
NORMI™ CAP Realtor SHORT – The realtors "SHORT" program educates the realtor in understanding the basics of mold and the components of indoor air quality, being aware of environmental surroundings, and protecting themselves from cross-contamination issues. As the NORMI™ CAP Trainer, you will present this 17 minute mold awareness presentation, personalized with YOUR credentials, and provide information (through the Q&A that may follow) on indoor air quality solutions, the Professional Screening Partner IAQ Program, and other important NORMI concepts and programs.
REALTOR (Long Program)
NORMI™ CAP Realtor LONG Coming Soon – Realtors are interested in learning how they can assist their clients to present their home as the most desirable listing on the market. Often potential buyers are "turned off" by the indoor environment of a home they are reviewing and can't even tell you why. This NORMI™ CAP Program is a 1.5 hour presentation to realtors explaining how THEY can help their listing clients present their homes in the most appealing way. By partnering with their seller, they can learn how to clean up the indoor living environment prior to listing the home and move the listing ahead of the competition making the price of the home less relevant.